Paul Garrett of Fox Umbrellas: When It Rains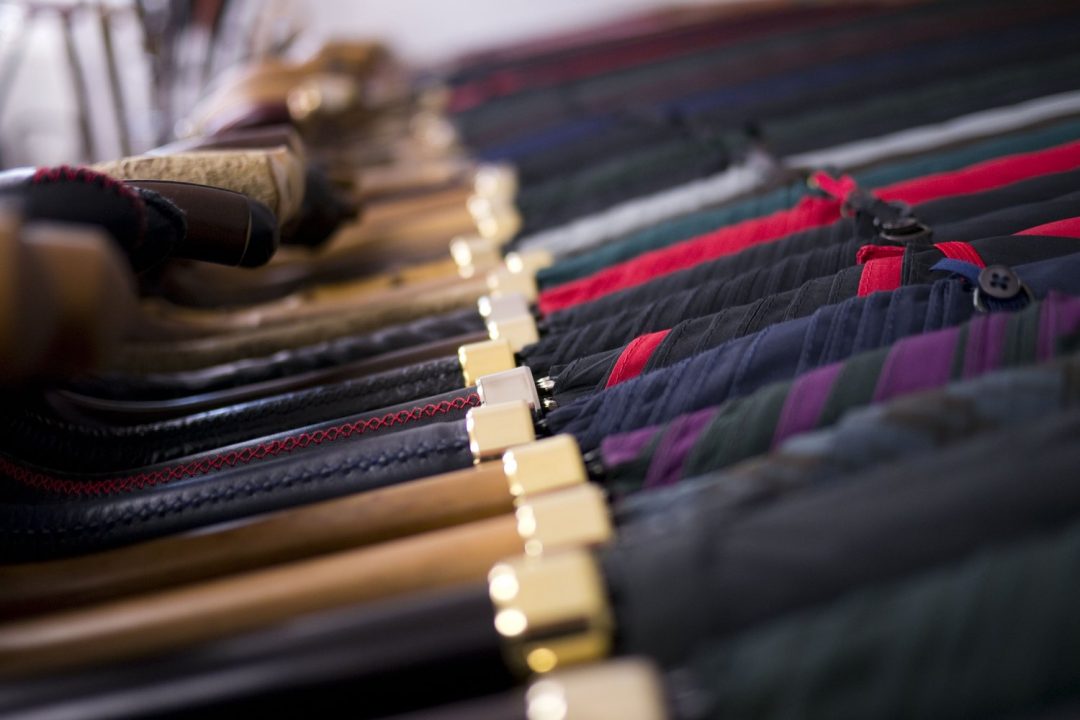 Please tell about the process of making umbrellas. It's very interesting, because not many people know how you do it.
Our range is so large, so it would be hard to describe how an umbrella is made as the process is slightly different between tubes, sticks and solids.If you took one of our solid umbrellas, it has the most amount of hand work involved and feature a one continuous piece of wood from the handle to the ferrule. The process starts by picking out the appropriate stick to work with. The stick is measured for size and the spring groves are then cut. The springs are made and shaped by hand from a reel of spring wire and plied to shape. The springs are fitted and pinned, then and the runner and notch are fitted. The ribs are attached to the frame and the skeleton of the umbrella is tested. The canopy is then cut and the gores sewn together. The complete canopy is fitted to the frame and tied-in to the ribs. The umbrella then has the open cap and ferrule fitted and is lastly sent for ironing and rolling. There are over 120 steps in making a solid umbrella and the process is time consuming. Some customers opt for very bespoke options such as having collars fitted to apron noses, all of which are made from flat pieces of precious and non-precious metals depending on the requirements.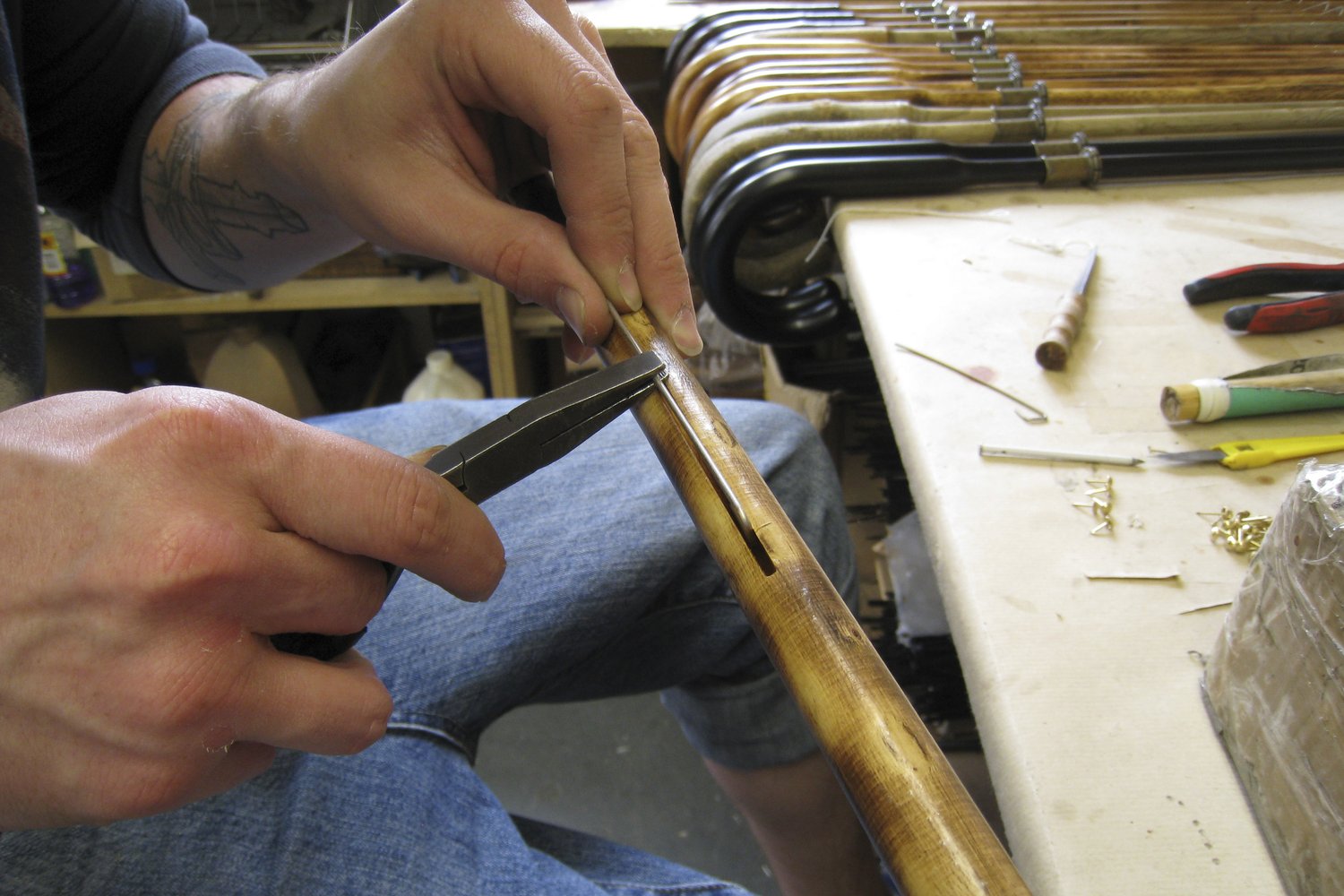 You say the process of making umbrellas has changed very little. But how has this process at Fox Umbrellas changed with decades?
The sewing machines we now use are obviously a lot faster and more accurate than some of the original machines we would have used. The same amount of handwork is still required, although we use a machine to tie in the ribs and tips where in 1868 this work would have all been done by hand.
Howmany craftsmen at your manufactory make umbrellas today?
We employ 21 people at the current time, some of the staff has been with us a very long time.
Do young people want to keep the ball rolling willingly?
Finding replacement staff is always a challenge for us, we always spend a lot of time training people. Some staff stay and others go, just like at any other company. We are fortunate we do not have a high turnover of staff. One employer has worked for us for over 53 years, just today I showed him an umbrella that he made when my father was running the company, for me as a child, to take to a family wedding. The umbrella is over 30 years old now and just needed a new e-band fitted.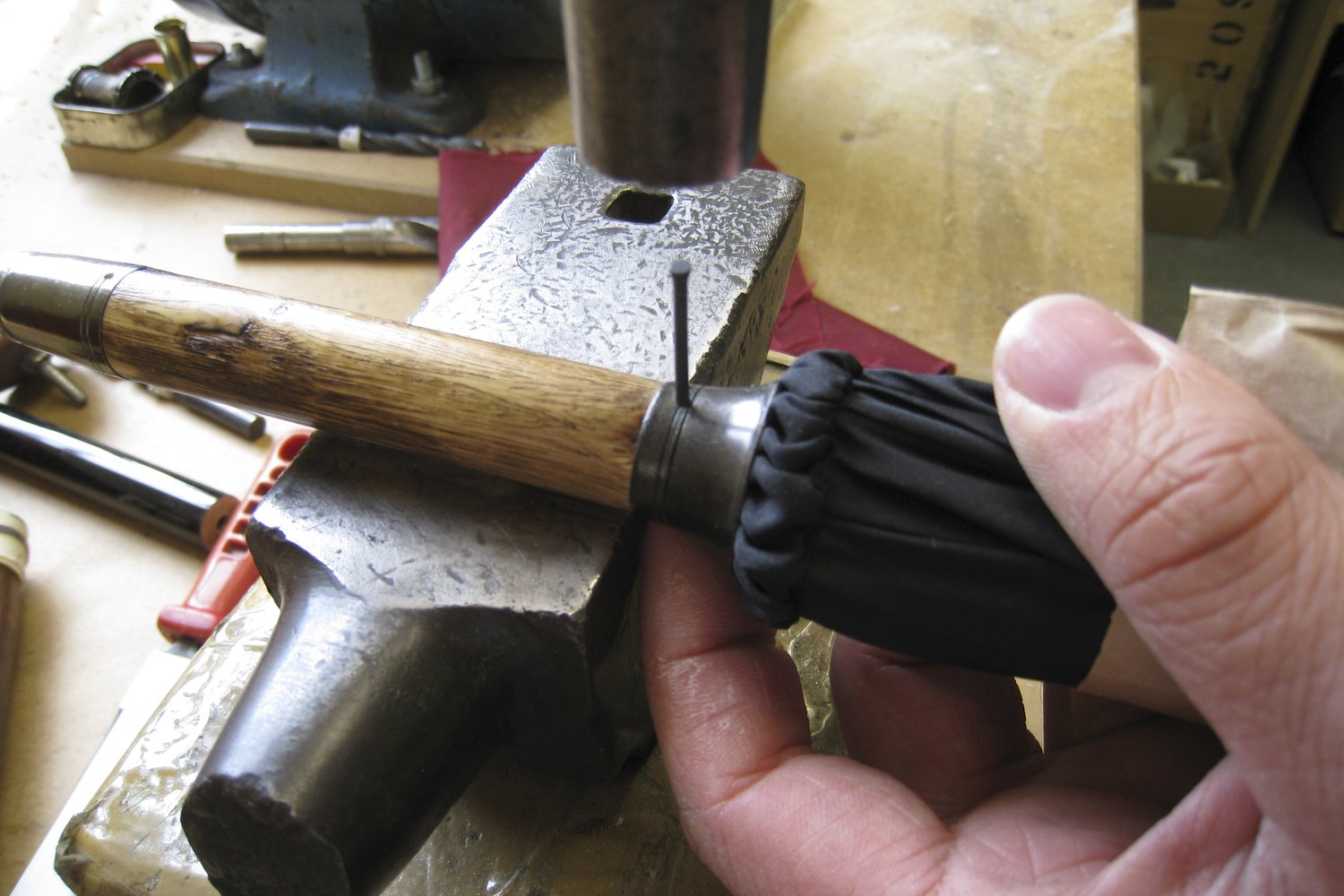 What's the most extraordinary order you ever have made?
We made an umbrella for a charity auction that had a woven platinum cover, 18ct gold frame and a jewel encrusted handle. The Sultan of Brunei saw the umbrella and purchased it for a large sum of money before the auction. The umbrella would have been worth around £20000 some 25 years ago, I dread to think of the value today. We also made umbrellas for the British and American stage show "Barnum". The umbrella had to incorporate a safety wire that ran through the middle of the umbrella and attached to a zip wire. The actor would "float" onto the stage using the umbrella.Logistically it was very hard to accomplish.
The US President John F Kennedy had Fox umbrella. How did he get it?
John F Kennedy's umbrella was ordered though the American Embassy and went out though the embassy. John F Kennedy also had other umbrellas made for various members of his family as presents over the same year, as he was so pleased with his own umbrella.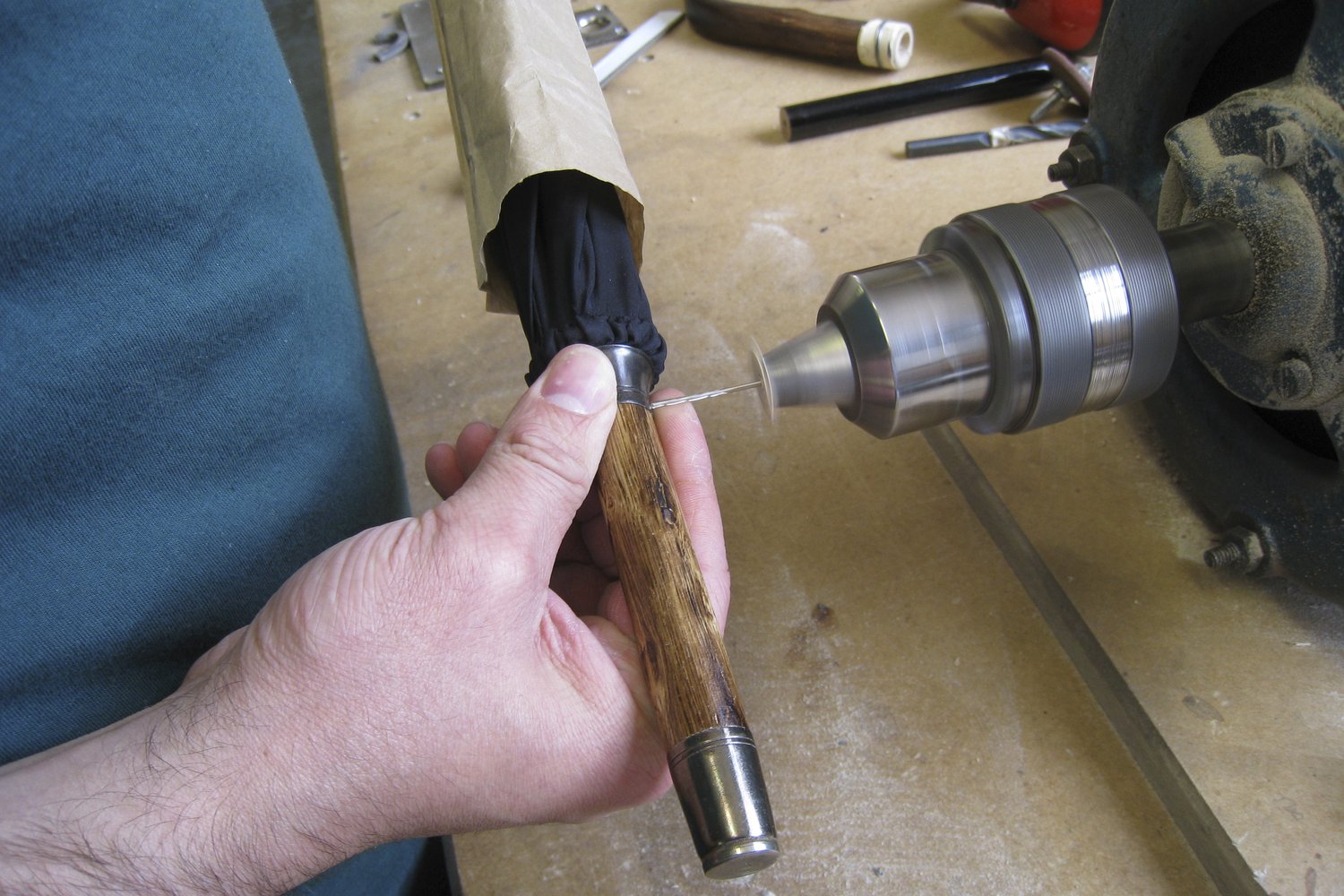 How should a perfect gentleman carry his umbrella and how he shouldn't do this?
Most gentlemen will either walk with the umbrella or carry it upon his arm, using the crook of the umbrella. Some gentlemen like to hold the umbrella around the area where the fastener goes, this is fine, however, with prolonged exposure to the natural oils in a person's hand it will deteriorate the waterproofing treatment on the canopy over time. A gentleman should not swing an umbrella and should take care when passing other umbrella users when his one is open.
Are there some rules for gentleman going with his lady under the one umbrella? Maybe the lady should go by right or left hand only or something else?
It would be largely dictated by which hand the gentleman uses to carry the umbrella, e.g. if he is right handed, the woman would probably walk on the right side of him.In the city some of the pavements would be too busy or too narrow to walk side by side.
My father once overheard a salesman in one of the stores that stock our umbrellas talking to a customer about a Fox umbrella which he was looking to buy. The customer after looking at various woods/handles picked up a rather nice Whanghee stick umbrella and asked the experienced salesman if he could open the umbrella up inside.
The salesman said, "Why would you want to open the umbrella up?"
The customer said, "To see how it looks when I'm using it."
The salesman smiled and said, "Sir, you do not need to open the umbrella."
The customer said, "What do you mean, of course I need to open it up if it's raining."
The salesman said, "Oh no sirs, all you need to do is this." He took the umbrella from the customer still rolled up, extended his arm out and said, "Taxi."
The onus being a gentleman need not unfurl an umbrella, this is quite an old fashioned way of looking at an umbrella, purely serving as an accessory to one's attire. Today the modern gentleman can and will use an umbrella with vigor. Even in the past umbrellas were actively used as more than just an accessory.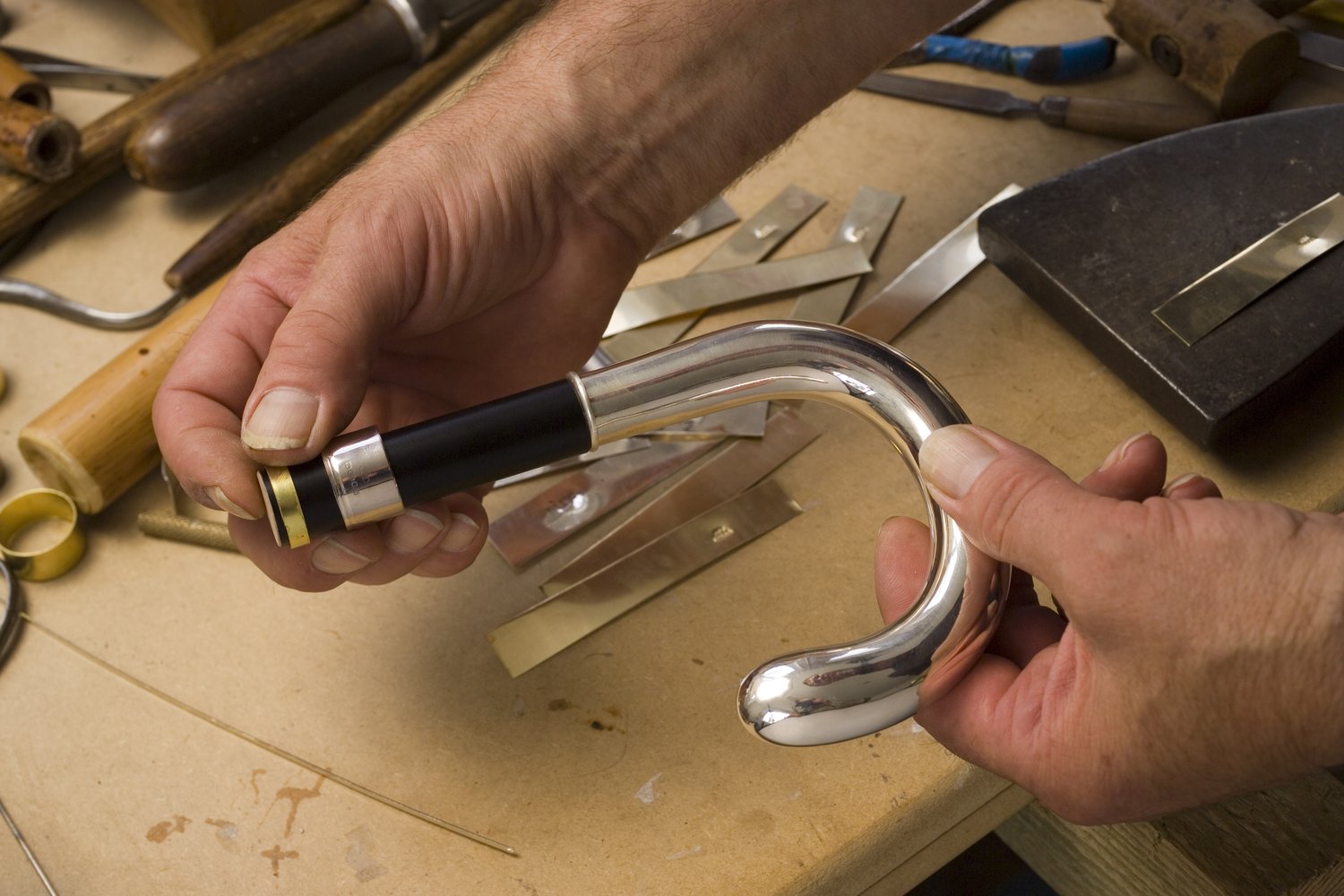 Is this allowed to use an umbrella as a walking stick?
A solid umbrella and some stick umbrellas can be used as a walking aid. I dislike the term walking stick as umbrella sticks are frasied down, making them thinner than a walking stick. Whilst the umbrellas are still very strong I never recommend putting ones full weight on an umbrella stick as you would with a walking stick.
How popular walking sticks nowadays? Does a walking stick enjoin a man upon dress code?
We do sell a number of walking sticks each year, from customers wanting to carry them purely for aesthetics to customers needing the support but not wanting one of the grey NHS walking sticks! Wanting something more refined.
Is to have a telescopic umbrella a bad form?
I don't believe so, telescopic umbrellas serve a purpose when you want to pack them away or where space is an issue. Sure a telescopic umbrella does not look as refined as a full length umbrella, nor is it as strong, but there are times you want a compact umbrella, e.g. when travelling.
Fox Umbrellas factory is in Croydon. How many days per year does it rain there?
It's difficult to answer this question, but living in the UK you can be sure it will rain sometimes each month. We sell our products worldwide and you can guarantee it is always raining somewhere in the world!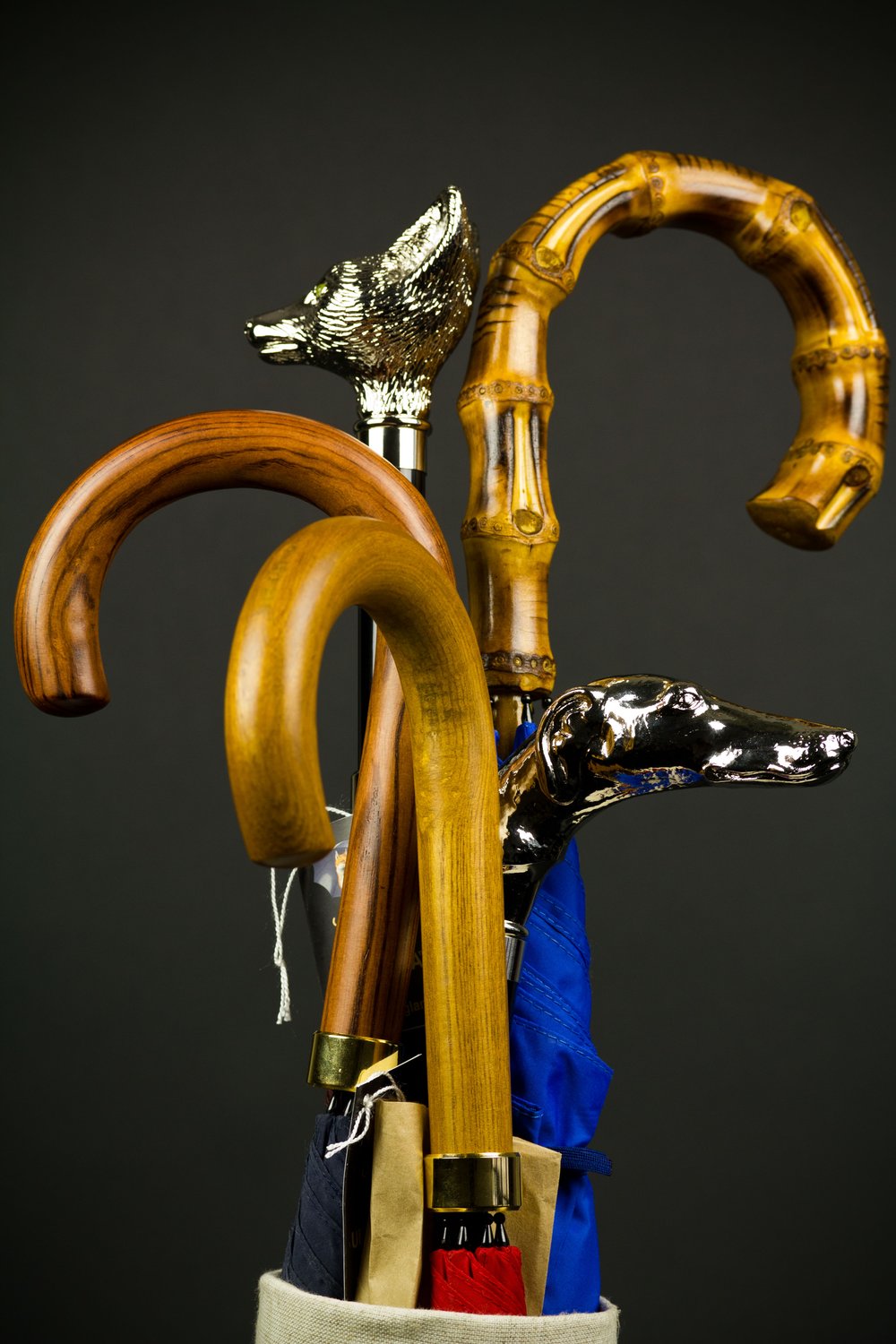 Photo: Fox Umbrellas